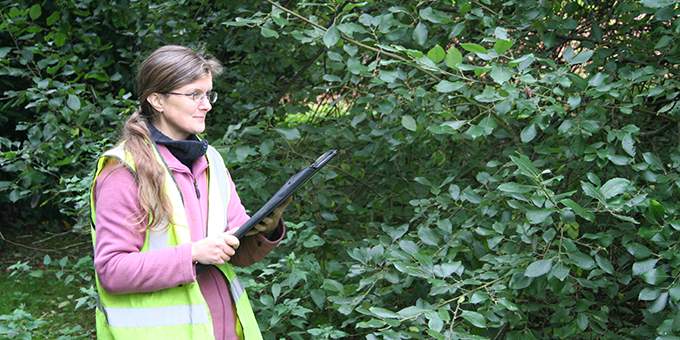 Rebecca Collins BSc CEnv MCIEEM – Managing Director
Rebecca has over 18 years' conservation experience specialising in bats, but also covering other legally protected species. As well as gaining a degree in Zoology from Cardiff University, she was also the recipient of a Millennium Award for Conservation from Bristol Zoological Gardens for work with bats. Rebecca is heavily involved in bat and mammal conservation at local, regional and national level in voluntary and professional capacities.
As a consultant, she has acted on behalf of many developers, providing the expertise for the timely delivery of Wales Assembly Government (WAG) and Natural England (NE) European Protected Species licence applications. Rebecca holds licences to survey for bats, great crested newts, barn owls, crayfish, small mammals, shrews and dormice in England and Wales and a bat licence for Scotland.
Rebecca is an accredited bat worker trainer for the BCT and Natural England and delivers training courses for other organisations, such as Manchester Metropolitan University (on their well-regarded Certificate in Biological Recording) the Mammal Society and the Field Studies Council. She holds a Site Visitor Construction Skills Certification Scheme (CSCS) Passport and a City & Guilds Certificate in Confined Space Entry.
David Wells BSc CEnv MCIEEM – Technical Director
David has a Biology degree from Southampton University and is a professional ecologist with 20 years' experience, including 15 years working as a consultant. He is a specialist in protected species surveys, impact assessment and mitigation design, particularly for bats and dormice, and is an experienced Ecological Clerk of Works. He has extensive experience of bat surveys and mitigation design, training, production of ecology chapters for Environmental Statements, and production of Habitats Regulations Assessments. David holds NE & NRW survey licences for bats, dormice, barn owls and great crested newts, and a bat survey licence for Scotland. He is the named ecologist on numerous development licences in England and Wales, mainly for bats and dormice, but also badgers.
David is the author or co-author of several publications, including several articles in CIEEM's In Practice magazine and the Mammal Society's UK BAP Mammals: Interim Guidance for Survey Methodologies, Impact Assessment and Mitigation. He teaches courses on dormice and other mammals for the Mammal Society and has been an external tutor for Bristol University. David holds a Construction Skills Certification Scheme (CSCS) Environmental Manager Passport and a City & Guilds Certificate in Confined Space Entry.
Associates
Where necessary, Collins Environmental Consultancy employ the services of suitably qualified consultants to assist in delivering larger projects and those where specific expertise are required.
Jobs at Collins Environmental Consultancy
We are currently looking to recruit a Senior Ecologist to join our team. The successful applicant will be a full or associate member of CIEEM, have: at least three years' experience in ecological consultancy; a keen interest in and enthusiasm for wildlife, a high standard of written and spoken English; a full driving licence; experience of preparing ecological reports and ecology chapters of Environmental Statements; and will ideally have a bat survey licence and experience of preparing EPS licence applications. Potential applicants should send or email us a CV and a hand written covering letter.
In return, we can offer an initial two year contract with the intention to extend beyond this, a competitive salary for this senior role within our small and informal team. The successful applicant will be based in our offices in Newent, and will be working mainly in Herefordshire/Gloucestershire and adjoining counties. A company pool car is available for business use, and we offer excellent CPD opportunities through in-house and external training.